Scagliola panelling in Schleißheim Castle, Bavaria, by Wilhelm Pfeiffer c. 1630.(Moved from the Munich Residenz c. 1720)*
Scagliola Altar Front, Oratorio della Vergine del Carmelo, Casasco d'Intelvi, Lombardy, c. 1700?
  The purpose of this website is to tell the story of scagliola and explain its enduring popularity.
  Scagliola is an artificial marble made from plaster and pigments.  It first appeared in Europe at the end of the 16th century, and immediately gained prestige status.  It was initially used in the decoration of royal palaces and Roman Catholic churches,  and subsequently in aristocratic houses and public buildings.  Its aesthetic and technical versatility made it a popular choice of material for the major architectural styles of the next three centuries.  It can be found in many of the world's finest historic buildings.
      In the early 1900s changing tastes and the arrival of new materials led to a decline in popularity. The material survived through its appeal to a small but discerning clientele who understood its use and appreciated its uniqueness and beauty.
    Interest in scagliola  has increased in the last thirty years, and  the material is still produced today by a few specialist makers.    
Scagliola  mouldings above red Adnet marble wainscot panelling.  The Marble Gallery, Lower Belvedere, Vienna c. 1715.
Inlaid scagliola fireplace with marble mouldings by Domenico Bartoli c. 1760.  Burton Constable Hall, East Yorkshire. 
Paired scagliola columns in Zwiefalten Abbey, Baden-Württemberg, c. 1750.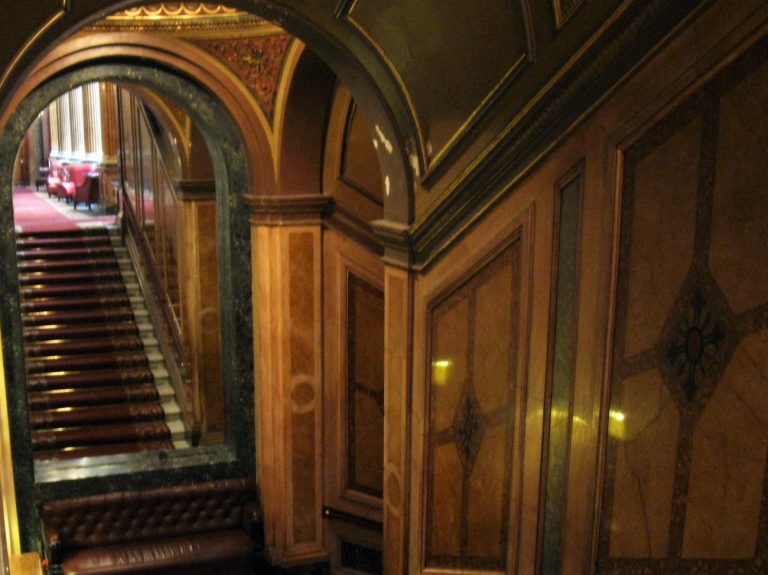 Scagliola wall panelling on the main staircase of the Reform Club, London.  J.M.Blashfield c. 1840.
Scagliola columns, pilasters and dado by Carlo Clerici.  Wentworth Woodhouse c. 1760.